3PL Warehousing: Everything You Need to Know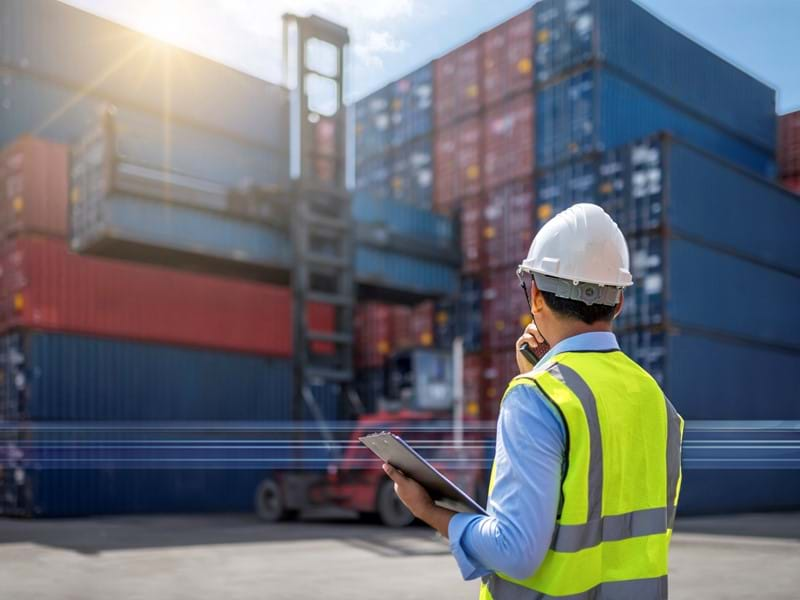 What is a 3PL Warehouse?
The term 3PL stands for third-party logistics, which refers to logistics services that are outsourced to a company that specialises in handling logistics operations like inventory storage and distribution for other companies. A 3PL warehouse may offer any number of services such as storage, order fulfilment, value added services, shipping, and returns and often tailor their offerings to their clientele.
Advantages of Using a 3PL for Warehousing
Cost savings - 3PLs can help cut costs by reducing infrastructure investments, reducing shipping and packaging costs thanks to the economies of scale, offering a more efficient workforce, and allowing companies to pay only for the services they need at a given time.


Flexibility and scalability - With the various 3PL options available, businesses can gain flexibility and scalability, adding or reducing services and warehouse space as needed.


Improved customer service - When logistics operations are smoother, customer experience improves with ideal packing, simplified returns, and more on-time shipments.


Improved efficiency 

- Thanks to 3PL technology like WMS,

TMS, FMS, and OMS

systems and logistics expertise, 3PLs frequently offer more efficient warehousing.

As a bonus, logistics staffing is no longer the company's problem, a real sell in a 

tight labor marke

t

.


Your team can focus on core business functions 

- By utilising a 3PL, your company can focus on what it does best.
Benefits of Using a 3PL for Warehousing
Order Fulfilment
3PL warehouses have more than warehouse space to store products. From pick and pack services for an ecommerce business (B2C) to full pallet order fulfilment for a company that sells exclusively to other businesses (B2B), 3PL warehouses can do it all when it comes to order fulfilment.
Kitting and Repackaging
When products are assembled into a kit or repackaged to create a new SKU or sellable unit, your 3PL service provider can help with services like this and can help you save on shipping costs and satisfy your ultimate end customers faster. Not every 3PL provider offers these services, so be sure to check with potential providers if this is a service your business may need down the line.
Receiving and Inventory Management
3PLs receive inbound freight, put it away in the warehouse locations to enable it to be available for order fulfilment, and handle inventory control and management. This means that they keep track of all your inventory, oftentimes providing real-time access to updated inventory so their customers can keep their items replenished as needed.
Some 3PLs specialise in handling a certain type of goods, like food products that must always be kept at an appropriate temperature or sensitive electronics that need special handling.
Shipping
Almost all 3PL warehouses ship orders to the end customer. Whether you're using full truckload, less-than-truckload, or last-mile delivery modes, a 3PL can ensure orders are shipped on time. 3PLs can often help negotiate better shipping rates as they can leverage shipping volumes and pass the savings on to the client. Also the 3PL can organise for "will-call" pick up by the clients carrier.
Returns
Not every 3PL offers returns, but many do. 3PLs offering returns serve as the home base for items returned by your customers. They print and ship returns labels to customers, process returns, determine what to do with the returned product, and send replacements to your customer where applicable. Some 3PLs even offer returns customer service.
Reporting
3PLs provide their customers with comprehensive reporting to help them track things like inventory, warehouse management KPIs, shipping, and orders. Reporting offered by 3PLs may even be able to help businesses keep track of metrics such as sales and customer demographics. By utilising high-level technology often employed by 3PLs, customers may gain access to improved demand forecasting, as well.
Access to Leading Edge Technology Like a Warehouse Management System (WMS)
Technology like a warehouse management system (WMS) is one of the most value-added services many 3PLs can offer their customers. A WMS is a type of software that helps track and organise processes and activities in a warehouse to streamline operations and reduce logistics spend. Often the WMS is integrated with a client ERP or MRP which can help improve efficiency and reduce costs, along with countless other benefits like improved on-time deliveries and the ability to employ just-in-time strategies. Modern 3PL warehouses also offer their customers access to advanced technology like robotics to help scale operations and improve efficiency.
Types of 3PL Warehousing
Contracted Logistics warehousing - Contracted 3PL warehousing, also known as 4-wall warehousing or dedicated warehousing, allows businesses to contract an entire warehouse and the staff and equipment required to carry out operations.


Multiuser 3PL warehousing - A shared 3PL warehouse space, also known as a multi-user logistics facility, services multiple clients, with inventories for multiple companies housed in one space. Labor may be either shared or dedicated, depending on the 3PL's model and the customer's freight volume. This type of warehousing allows customers to pay only for the space they need on a month-to-month basis. Despite space and staffing often being shared, processes in these facilities are commonly dictated by the customer, providing customisable service that allows companies to offer the same customer experiences across all warehousing operations.


Omnichannel warehousing - Omnichannel 3PL warehousing and distribution solutions allow you to service both B2B and B2C customers by offering different types of order fulfilment and shipping options within the same facility.


Ecommerce warehousing - 

Ecommerce 3PL distribution

centres use high-tech solutions combined with regular warehousing services to fulfill ecommerce orders, with all the other warehousing tasks that entails.
How Much Do 3PL Warehouse Services Cost?
The best part about 3PL warehousing costs is that they're based on the services you need and the level of inventory you need to carry. You contract the logistics services you need and pay only for those services. Every 3PL has its own pricing model, so it's important to check over each bid carefully to see what's included in the base rate and which services you'll be charged extra for.
Some of the costs associated with 3PL warehousing services include:
Storage fees

In-and-out fees (for receiving)

Onboarding/set-up fees (typically a one-time fee)

Packaging fees (when not included in order fulfilment)

Order fulfilment charges

Labelling fees

Shipping charges

Returns management charges

Account management
Storage and order fulfilment fees will make up the majority of 3PL costs. Some factors that might affect the cost of 3PL services include the sensitivity or size of products, the size of your inventory, and the amount of time staff will need to spend handling your product.
As is the case with everything in life, it's important to remember that you get what you pay for. Sometimes the lowest cost 3PL isn't the best option if they can't offer quality service. Be sure to thoroughly vet any 3PL warehousing providers you're considering. 
If you're considering cashing in on some of the advantages of 3PL warehousing and logistics services, SEKO is an ideal solution. Reach out to our team here.
About SEKO Logistics
Built on nearly 50 years of logistics expertise, SEKO Logistics is the no-nonsense global end-to-end logistics partner – from factory to consumer. SEKO delivers sustainable client-first service, expert reliability and tech-driven shipping solutions that turn supply chains into a competitive differentiator. With over 150 offices in more than 60 countries, SEKO helps you move at the speed of commerce. Learn more at www.sekologistics.com.
WANT TO KNOW MORE?
Everything we do is designed to make our clients' lives easier - helping them to develop and maintain excellent relationships with their own customers. Let us know what business challenges you are facing, and we'll see what we can do to help.