SEKO Distributes Protective Equipment to Its Frontline Staff Keeping Clients' Supply Chains Moving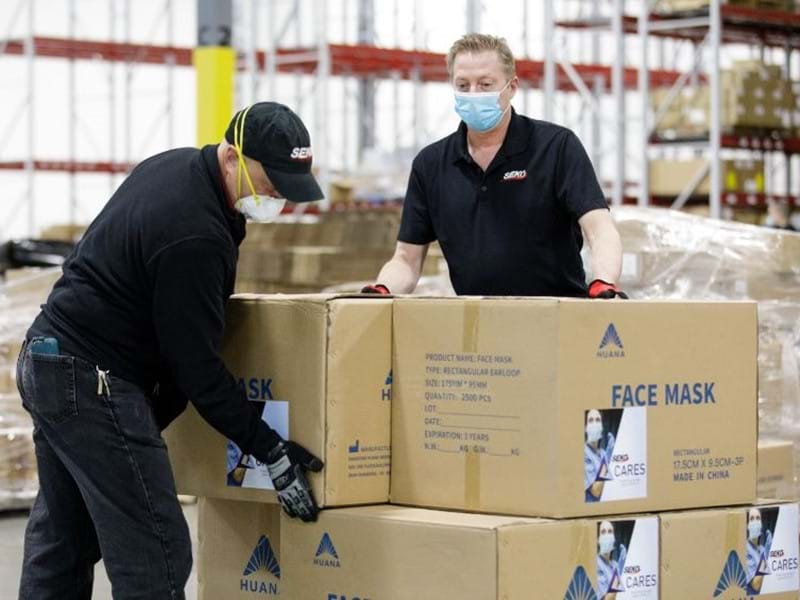 SEKO Logistics has distributed over 28,000 face masks and over 138,000 gloves to members of its frontline teams in North America who are enabling its clients' supply chains during the coronavirus crisis.  Supporting the SEKO teammates who enable our clients' supply and demand chains is one of the three key pillars of the expanded SEKO Cares Campaign.
It has also invested in additional MedTec Driver PPE kits to ensure the health and welfare of SEKO's consignees and shippers as it continues to support the national and global medical relief effort with deliveries of medical devices, PPE and other related shipments into hospitals, clinics and makeshift medical centres in convention halls in major cities across the U.S.  The kits were distributed to certified SEKO MedTec branches as well as over 50 different partner agents that perform white glove deliveries as part of the expanded SEKO MedTec network.
The initiative forms part of the company's SEKO CARES program launched in April in partnership with the non-profit humanitarian relief organization, Project C.U.R.E. SEKO pledged a donation of more than $200,000 to purchase urgently-needed PPE equipment for frontline workers treating patients whose lives are at risk from the spread of Covid-19.
SEKO's President & CEO, James T. Gagne, says the same commitment and application is being made to the company's staff who are helping to "keep our clients' businesses running" at a time when many supply chains across the globe are suffering from massive disruption.
"SEKO CARES is not just about making a financial donation to a very important and critical cause, it's also about using our expertise in the MedTec sector to manage these supply chains from pick-up to final mile delivery. The PPE we are donating only has an effect if it reaches those who need it quickly and securely, and to do that we must equally protect our own frontline teams who are doing such an outstanding job for us and our clients. The health and well-being of our people and our business go hand-in-hand and we take this responsibility very seriously," he said.
During this unprecedented time, he added, SEKO Logistics is maintaining three primary objectives:
Maintaining the health, safety and welfare of our people, clients and partners
Mitigating supply and demand chain disruptions for SEKO clients, while working closely with local governments and healthcare officials to help combat

 


the coronavirus
Ensuring business continuity through contingency planning.
In addition to its own donation, SEKO continues to play a key role in supporting the medical response effort in the battle against COVID-19 which is ensuring manufacturers of respirators, ventilators, gloves, masks, gowns and other personal protective equipment (PPE) can expedite urgently-needed shipments to doctors, nurses and patients wherever they're needed.
SEKO hopes its actions will also help to inspire other companies to make their own commitments to join the relief effort and to ensure 'frontline heroes' get the equipment and support they needs to save lives and stay safe. Outside of the U.S, SEKO has also supported a charter flight with medical supplies for healthcare workers in New Zealand and helped to fund a donation of 380,000 items of PPE for care home workers in the UK.
Share this SEKO news article