THE RETURN OF RETAIL IN A COVID WORLD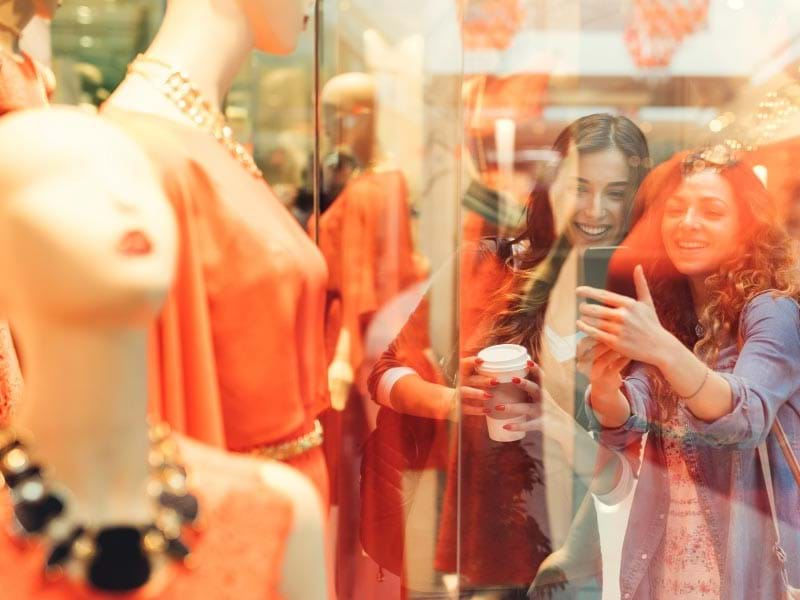 As the world struggles through this unsettling and uncertain period, sectors of all kinds are affected in one way or another. Retail has been hit particularly hard by COVID-19 and, looking ahead, businesses will have to be more adaptable than ever to thrive in what was already a rapidly evolving industry.
Increasing consumer demand and digital innovation are reflected by almost three-quarters of customers, claiming to use multiple channels when shopping. And, as shoppers begin their return to the high street, businesses can no longer rely on generating profit purely online, however, their in-store experience must stay ahead of the curve.
One of the challenges brands face today is delivering offline experiences that offer the same 'wow factor' to their online customer base. As retailers rush to create a seamless integration between physical and digital touchpoints, the importance of a responsive and high-quality logistics service has now been deemed an 'immediate need.' 
A Holistic Approach to Increasing Sales
Consumers today are busy, tech-savvy and juggling multiple tasks at a time. With an attention span of eight seconds or less, brands must continuously refresh their presence in the retail environment to attract consumers, stay relevant and foster loyalty. As a result, retailers are being pushed to integrate both online and physical platforms into an Omni-Channel format to provide that coveted, seamless experience.
In 2017, Harvard Business Review studied shopping habits and discovered that a mere 7% were online-shoppers only, while 20% bought exclusively in-store, and the remaining 73% were Omni-Channel shoppers. Clearly, those figures will have changed, due to COVID-19, but the high street will make a comeback and the holistic shopping experience can manifest itself in a variety of ways. For example, while waiting in line to check out, an Omni-Channel customer can instantly visit a website, compare prices, and download an app or coupon to use at check-out.
Therefore, your brand needs to have a prominent place both online and in the physical retail space so your target customer can easily find you. Whether it's a showroom, a social media platform or an online marketplace, a customer touchpoint is created every time a person interacts with your company. Touchpoints can be as simple as watching an ad or reading a review, or as involved as downloading an app or contacting customer service. The success of these interactions is the key to growing your business. 
The In-Store Customer Acquisition Opportunity
In-store marketing is often an overlooked customer touchpoint that presents an opportunity to increase sales with a captive audience. Fifty percent of shoppers expect the option to pick up online purchases in-store; thus creating the perfect opportunity to add sales on top of an existing pick-up order. Offering such incentives as flash discounts or brand loyalty purchases can lead to impulse buys while the customer is waiting in line. Investing in high-quality, mixed-media in-store displays and point of sale marketing is a massive opportunity for retailers to secure that added purchase.
The brick-and-mortar retailer is no longer just a traditional store; it's a showroom. According to Outer Box Design, 80% of customers research product information, reviews and prices on their cell phone while making a purchase decision within a physical store. Premium brands spend millions on advertising and understand that the effective use of their physical space can complement their online efforts. Effective strategies must extend beyond traditional store planograms and discount warehouse displays to truly stand out from the competition.
Brands cannot depend on loyalty from those digitally-savvy consumers who access their product information through multiple channels. According to BusinessWire, 74% of millennials would switch to buying from a different retailer if they received poor customer service. Combined with decreasing attention spans, brands need to constantly refresh their displays to stay at the forefront of their customers' minds.
Display Manufacturers Increase Your Brand Presence
To get products in front of customers quickly and effectively, today's top brands rely on display manufacturers for a cost-effective solution. As time has progressed, high-performing brand assets have become more sophisticated than their static predecessors. Effective displays are now highly visual, animated and integrated, and with the public returning to the shops, these elements can help provide consumers with the immersive experience they strive for.
These examples of branded displays demonstrate just how effective the in-store component of Omni-Channel marketing can be:
Uniqlo

– The Japanese fashion brand has always been a benchmark for Omni-Channel excellence. It was one of the first fashion retailers to offer in-store touchscreens for shoppers to share outfits on social media. In 2013, Uniqlo installed a 'Magic Mirror' in their San Francisco store to minimize time spend trying on different colors of the same item. Customers could see themselves wearing their selected apparel in a variety of colors using a touchscreen and a special mirror. The company ultimately won over the US market by installing vending machines stocked with its premium t-shirts and puffer vests in airports and malls. The Uniqlo vending machine in San Francisco airport sold $10,000 worth of merchandise per month.

Niven

.net – Specializing in strategic in-store display and design solutions, Niven is at the forefront of retail trends. Niven.net showcased the connectivity of Samsung's wireless speakers with their latest curved panel TVs by installing a modular testing station display as an engaging, interactive consumer experience; ultimately increasing both enthusiasm and sales.

PD Instore

– PD Instore creates design-to-build displays that connect brands with shoppers. They invented neoPEGS™, a hardware technology that creates easy-to-assemble 3D displays. Designed to be easily movable, pegs of differing lengths (1" – 8") hold layers of images and other elements in place on a baseline background.

This new technology reduces waste and labor time by up to 50% and can be continuously reused.
Although a shiny new point-of-sale display that gets customers talking is wonderful, but it is rendered useless if it doesn't arrive on time, is damaged in transit, or only available within 25% of your locations.
Imagine putting in the time, research and resources to create a one-of-a-kind, original display, only for the whole campaign to fail because of a logistical error. Fortunately, there are ways to safeguard your investment and hard work from such risks.

Necessary Traits of an Effective Logistics Provider
If you are a retailer or display manufacturer, you need to have total confidence that your assets will arrive on time and in perfect condition. But who do you trust to move your multi-million dollar displays across the country (or around the world for that matter)?
Working with an experienced and capable logistics partner is crucial to the success of your in-store display and broader Omni-Channel marketing strategy. Consider these six factors when choosing your logistics partner:
1: SAFETY
As the world continues to grapple with an issue of enormous scale and human impact, the safety of staff and customers is more important than ever before. Maintaining the health and welfare of anyone involved in the supply chain of your company must be one of your primary objectives
AS a result of the pandemic, we have seen a huge surge in demand for essential items such as valuable medical and high-tech equipment with highest priority. This surge in demand and increased priority only emphasizes the of an uncomplicated, efficient, reliable and safe White Glove delivery service.
One of the main differences when it comes to White Glove delivery is level of care, trackability, and quality when compared to more basic services. For example, most superior services can provide the assembly of goods upon destination, and subsequent removal of all packaging, which is hugely advantageous in a COVID world as it means fewer hands on items and a consistent standard of hygiene.
2: CARE
Retail displays vary in their complexity and sometimes involve the transportation of components that need to be assembled on site. Simply squeezing the goods into packed vans can result in damage, loss of quality control, extra expense, and delays for both the brand and the store.
A logistics provider can guarantee the care of your assets in storage and transit. White Glove logistics providers will give a complete, door-to-door installation and clearance service and specialty drivers are trained to deliver goods to the desired room, assemble them and clean up afterwards.
The size and amount of goods is another factor to take into consideration, as most providers typically handle smaller LTL (less-than-truckload) freight; but do they have the capability to carry bulk, oversized items? The ability to care for large consignments with added services such as warehousing, fulfilment and trash removal makes deliveries as cost-effective as possible.
SEKO's Retail Rollout logistics management provides White Glove deliveries to multiple venues such as malls, stores, stadia and universities. This full service includes delivery coordination, warehousing, fulfillment, debris removal and the recruitment and training of store merchandisers.
3: QUALITY
Retail displays require more advanced logistics compared to straightforward warehousing and fulfillment. Uniting the elements of Omni-Channel marketing can be extremely complex, but you want a provider that makes it seem easy.
Does your logistics provider go above and beyond typical logistics to reach thousands of stores nationwide with little notice?
With over 120 offices in 40 countries worldwide, SEKO has the experience and expertise to handle all types of high-value cargo including perishable, time-sensitive goods. Our overnight service and late cut-off times guarantees a next-day delivery. Our facilities are monitored by state-of-the-art security equipment and fast response fire protection for our clients' peace of mind.
4: TIMING
Timing is everything when it involves mixed media brand displays. Can your provider coordinate all store deliveries to arrive by midnight so the store is has ample time for set-up before the next day's trading? Not only should each store know when to expect deliveries, but staff should know if they will be required to assemble displays. A good logistics provider will allow you to directly track all of your consignments from the moment they leave the warehouse to arrival.
SEKO relentlessly pursues timely deliveries, and our White Glove drivers work around-the-clock to offer an unrivaled last mile delivery. With our tracking technology – MySEKO – we ensure supply chain transparency via text updates, photos and RFID (radio-frequency identification).
5: BRAND VALUE
Does your logistics provider understand the brand equity within each display? A retail display is a brand's public face offline and needs to represent the same value as those advertised online for a seamless customer experience. Providers should deliver consistent services in every city and state for country-wide launches and campaigns.
Can they deliver the same service for international retailers? SEKO manages display roll-outs and new product launches from over three million sq. ft. of dedicated logistics centers in Europe, North America and Asia.
6: CUSTOMER EXPERIENCE
Omni-Channel marketing is consumer focused and your logistics provider should support an equally high standard of retail experience. Logistics providers should demonstrate their knowledge of retail display management both in transit and installation. Does your last mile service team have expertise in point-of-purchase display builds to ensure store consistency?
SEKO drivers understand that these displays are an extension of your brand and work diligently to ensure minimal disruption and an enhanced experience. Besides transportation and technical installation, we have consolidation at origin; including hand-packing, kitting and labeling for retail and consumer goods. We also offer removal and returns management support to take back all display materials wherever they need to go. At SEKO Logistics we are only a phone call away - You can speak to a real person at any time to check the progress of your shipment.
Logistics is the Key to a Successful In-Store Retail Campaign
Investing in high-quality retail displays is essential for seamless Omni-Channel shopping. However, these high value displays often have to be delivered across the country at moment's notice and handled with care. If there is a failure in any part of the supply chain due to lack of care, bad communication and/or delays, your customers won't experience the imaginative in-store display you had planned for. 
Finding a White Glove supplier that gives you peace of mind could be the difference between the success or failure of a multimillion dollar marketing campaign. Successful in-store displays are time-sensitive, customer-focused and more complicated than standard delivery services. When choosing your logistics provider, consider care, quality, timing, brand value and customer experience. If you can find a provider that can guarantee all of these, then you've found your ideal logistics partner.
SEKO understands that brands need a service that goes beyond traditional logistics – offering display manufacturers and brands a White Glove service that emphasizes the careful handling of complex installations. We deliver your retail displays on time, on-brand, and in perfect condition for the ultimate customer experience.
Interested in learning about the SEKO White Glove solution to improve your customers' in-store experience? Contact us or find out more about our retail logistics services here.
WANT TO KNOW MORE?
Everything we do is designed to make our clients' lives easier - helping them to develop and maintain excellent relationships with their own customers. Let us know what business challenges you are facing, and we'll see what we can do to help.