Overcoming Ecommerce Return Processing Challenges with a 3PL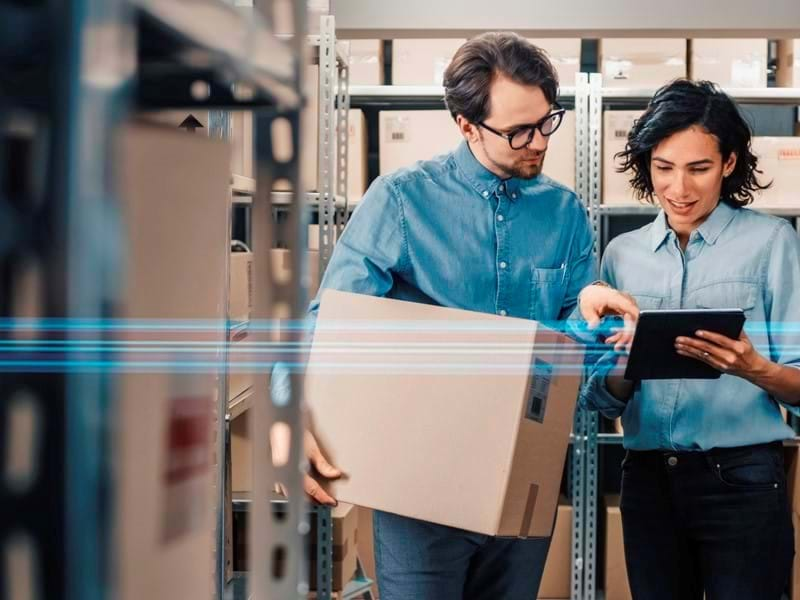 For ecommerce businesses, returns happen. ecommerce return rates are similar to the rate of returns for brick and mortar stores at this point. Returns processing can be complicated, expensive, and time-consuming, but it's simply a part of doing business. The National Retail Federation expects that holiday returns are costing companies $171 billion this peak season. A 3PL returns partner can help businesses overcome the challenges that come along with ecommerce returns management.
WHAT DOES IT MEAN TO OUTSOURCE TO A 3PL?
3PLs, also known as third-party logistics providers, offer contracted transportation and logistics services to help their customers manage and execute some or all of their supply chain operations. Most 3PLs offer solutions that are tailored to each client's needs. This could mean handling a single step in the logistics process or fully managed logistics services that take the entirety of operations off the client's plate.
Some services 3PLs may offer include:
Procurement -

 Some 3PLs offer 

procurement

 services, helping ecommerce companies source raw materials and/or products.


Warehousing - 

3PLs that offer warehousing services

 can help companies with warehousing tasks including receiving freight, storage, and transportation to and/or from the warehouse. 3PL warehouses may offer multi-client (multiple customers' products housed in one warehouse) or dedicated (one or more entire warehouses dedicated to a single customer) warehousing services.


Order fulfillment- Many 3PL warehouses offer order fulfillment, which commonly includes picking and packing, inventory management, and getting the packages on their way to the end customer. Some 3PLs may also offer value-added services as well, such as repackaging or kitting.


Transportation-

 

Whether you're transporting goods by air, 

land

, or sea, 3PLs can offer value-added transportation services that utilize the power of scale and deep experience to optimize the shipping process.


Returns processing-

 Also known as 

reverse logistics

, 3PL returns processing may include facilitating customer returns (sending shipping labels, scheduling pickups via last mile delivery providers, etc.), receiving returned items, inspecting and sorting returned products, managing refunds or replacements for the customer, and managing returned inventory.
WHAT IS A RETURN WAREHOUSE AND WHAT DO THEY DO?
A 3PL return warehouse, or a return processing center, commonly handles the entire returns process for their customers, including these steps:
Creating a return materials' authorization

Receiving returned products

Inspecting and sorting returned items

Sustainable, ethical disposal of unusable returned products

Restocking items in new condition

Resale of items with damaged packaging or mild defects

Reporting to keep customers informed of returns and changes in inventory
Smooth, efficient returns require rich integrations with the customer's systems to ensure the exchange of real-time data between both parties. This allows the 3PL to receive information about returns directly from whatever supply chain management solutions (ecommerce platforms, ERPs, TMSs, WMSs, etc.) the customer is utilizing and send status reports, inventory updates, and other pertinent information directly to the customer.
Return warehouses are often able to manage returns more efficiently and with less overhead thanks to dedicated space and trained staff, leading-edge technology designed for reverse logistics, and the power of scale, especially when it comes to shipping returned items.
WHAT CHALLENGES DO ECOMMERCE BUSINESSES FACE DURING RETURN PROCESSING?
RETURNS ARE EXPENSIVE!
According to a report released by the National Retail Federation and Appriss Retail, the average retailer incurs $165 million in retail returns for every $1 billion in sales. That's a lot of dough! The cost of returns not only includes the cost of the returned products but also logistics costs. It costs money to receive, inspect, sort, restock, resell, or dispose of returned items. Also, since consumer expectations dictate it, many retailers cover some or all of the cost of shipping returns.
Returns tend to cost even more when companies don't have great processes in place, and there are plenty of intangible costs associated with returns that can impact companies' financials. For example, if a customer is unhappy with their return experience, they may opt not to shop with the retailer next time. That lost future business isn't a direct cost, but it hurts the bottom line in the long run, nonetheless.
ECOMMERCE RETURNS ARE COMPLICATED
Because there are several necessary steps in the reverse logistics process, it can be difficult for the average ecommerce retailer to manage. The returns process touches so many different areas of the business, from customer service to warehousing to shipping and beyond, and each of those areas must effectively communicate with the others to ensure the customer is satisfied with their returns experience.
Deciding what to do with returned products can also be very complicated. Determining whether the packaging or the item itself is damaged is difficult enough. Regulations surrounding returned items can muck up the process further, affecting which items can be resold and how to dispose of certain items. Not abiding by the regulations could land a company in legal hot water.
RETURNS FULFILLMENT TAKES LONGER THAN THE INITIAL ORDER FULFILLMENT
Due to the additional steps required in returns processing, it can take longer than an initial order, especially during the surges of returns that are common after major holidays. Smaller businesses without dedicated returns staff may even set returns aside to be processed later.
That may mean it takes additional time to get the end customer a refund or replacement. This can really hurt businesses during the post-holiday season.
SOME BUSINESSES DON'T HAVE PROCESSES OR STAFF IN PLACE FOR ECOMMERCE RETURNS MANAGEMENT
Because returns are complicated and can take up a lot of space, many ecommerce businesses simply don't have the resources to deal with them effectively.
They may struggle with efficiency. It might take a long time for staff to process returns, eating into other productive tasks those employees could be performing. It might take a long time for the company to make time and/or space to process returns. Lack of efficiency may also show through as a lack of revenue from returned items when they go unsold, either because the returned products aren't being restocked promptly when they're in new condition or because they're not being sold as seconds or imperfect items.
A COMBINATION OF THE ABOVE ISSUES CAN HURT A COMPANY'S CUSTOMER SATISFACTION
Customer satisfaction is critical to ecommerce businesses. Consumer expectations have changed drastically over the past several years, forcing retailers to rise to the occasion. Since so many consumers rely on customer reviews and word-of-mouth marketing to determine whether they'll shop with an online retailer, meeting those expectations is a critical component to success in an industry awash with competitors.
When returns processing doesn't go smoothly and takes a long time, it will likely have an impact on the customer's overall online shopping experience. Research by Doddle conducted in 2020 showed that 84% of respondents said that a positive returns experience would encourage shopping with the retailer again. This research indicates that returns are an important component in customer satisfaction and positive returns experiences lead to repeat business, good reviews, and customer recommendations.
WHAT ARE THE BENEFITS OF 3PL RETURNS OUTSOURCING?
A 3PL can help solve a lot of the problems that come along with reverse logistics while mitigating risk and keeping the bottom line in mind. Here are just some of the benefits of utilizing a 3PL partner for ecommerce returns.
Improved customer service

The ability to scale returns

Regulatory concerns can be left to the 3PL

Cost savings and predictability; improved shipping costs thanks to 3PL connections and the power of scale

Cutting-edge technology and reporting

Expertise and experience to streamline returns processing and ensure positive customer experiences

Clients have can have their returns processed in country, enabling refunds to be issued to the consumer within days, rather than weeks 
SEKO Logistics provides comprehensive reverse logistics services, and we'd love to show you what we can do for your ecommerce business. Reach out to our team here to learn more.
WANT TO KNOW MORE?
Everything we do is designed to make our clients' lives easier - helping them to develop and maintain excellent relationships with their own customers. Let us know what business challenges you are facing, and we'll see what we can do to help.