make aN Impact Today
In times of change, unrest and crisis, we focus on what's really important. Our SEKO Cares initiative was born to unite all members of our global community, so we can truly make a difference to our clients, people and planet. 
By leveraging our partnerships and expertise, we can successfully create a bridge between the United States and Europe - and fly urgent medical supplies into Ukraine, as soon as possible.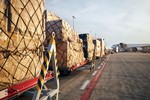 DONATE NOW
SEKO has committed $150,000 towards the transportation and delivery of medical, food and other critical goods into Ukraine and surrounding countries. On top of this, we continue to raise money in order to sustain lifesaving efforts. Show your support and help us make a difference!

100% of all donations will go towardS relief efforts around Ukraine and other communities in crisis.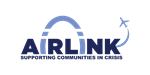 OUR PARTNERAirlink is a global humanitarian organization which delivers critical aid to communities in crisis, providing invaluable airlift and logistical solutions to non-profit partners around the world.
WORKING TOGETHER TO MAKE A DIFFERENCE
Alongside Airlink, we've also teamed up with Project C.U.R.E. and other non-profit and aviation partners to achieve the following:
Pallets shipped by air and ground to date
SEKO donated transportation services for Ukraine
Fundraising goal for Airlink
What we've done so far:
SHIPPING URGENT MEDICAL SUPPLIES INTO UKRAINE
- AIR FREIGHT -

Sent from Project C.U.R.E.
• 28 pallets – Chicago → Ukraine
• 12 pallets – Houston → Ukraine
• 10 pallets – Philadelphia → Ukraine
• 16 pallets – Philadelphia → Ukraine
• 80 pallets – Denver → Ukraine


Sent from Convoy of Hope
• 60 pallets – Missouri → Poland
• 31 pallets – Missouri → Ukraine


Sent from Afya Foundation
• 20 pallets – New York → Poland


Sent from Plast
• 3 pallets – Philadelphia → Ukraine
- ROAD FREIGHT -

Sent from Crossroads
• 2 Full Truckloads – UK → Moldova
• 1 Full Truckload – UK → Moldova


Sent from Good for Goods
• 1 Full Truckload – UK → Ukraine
• 1 Full Truckload – UK → Poland

Sent from International Ministry of Charity Emmanuel 
• 26 pallets – Seattle → Ukraine