CLIENT ADVISORY: Panama Canal Update – October 4 | SEKO Logistics

What's The Latest
The Panama Canal Authority has made the decision to further reduce the average daily number of ships allowed to navigate the canal. Administrators had previously cut daily transits from 40 to 32 a day. Beginning November 1, the daily number of ships to transit the canal will now be reduced from 32 to 31.

​​​​​The Bigger Picture
This year's severe drought conditions, combined with a looming El Niño weather pattern, are continuing to cause challenges at the canal, forcing the extension of reducing the average daily number of ships allowed to transit the canal beyond the August 21, as was originally announced in August. At the time of the initial announcement, the Canal Authority had shaved around two meters off its maximum draft for its Neopanamax locks, which had resulted in the restrictions. 
As of October 3, waiting times have decreased from 160 ships in early to mid-August to 100 ships, which is in line with waiting times last year and only 10 above the average for the past decade. According to the Waterfront Maritime Services, supply chains for goods frequently transported through the canal are expected to still be slowed. This will continue to affect trade between China, Japan, South Korea, and certain regions of the U.S. in particular, as the Panama Canal facilitates 46% of container movement from northeastern Asia to the U.S.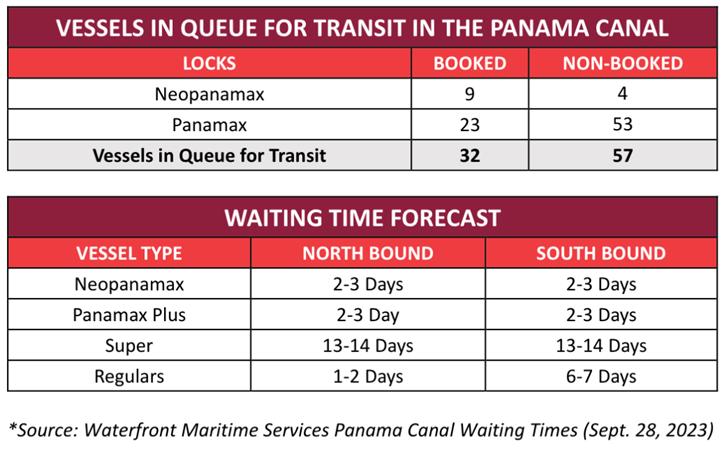 The Bottom Line

We are continuing to monitor the situation closely and provide timely updates to those impacted. If you
have any specific questions about your shipments, contact your SEKO representative directly.

What's Next?

We are your logistics partner, ready and able to pivot quickly in the face of challenging circumstances.
As the delays persist, our team is prepared to help find alternative routes (e.g., West Coast or Suez Canal re-routes, depending on the point of origin), where necessary, and create a solution that works for your business and your customers.
If you have questions, please reach out to your SEKO representative, or email us at hello@sekologistics.com.
WANT TO KNOW MORE?
Everything we do is designed to make our clients' lives easier - helping them to develop and maintain excellent relationships with their own customers. Let us know what business challenges you are facing, and we'll see what we can do to help.