SEKO Logistics expands with more east coast hubs and larger facilities in Baltimore and Charlotte to support regional market growth in the United States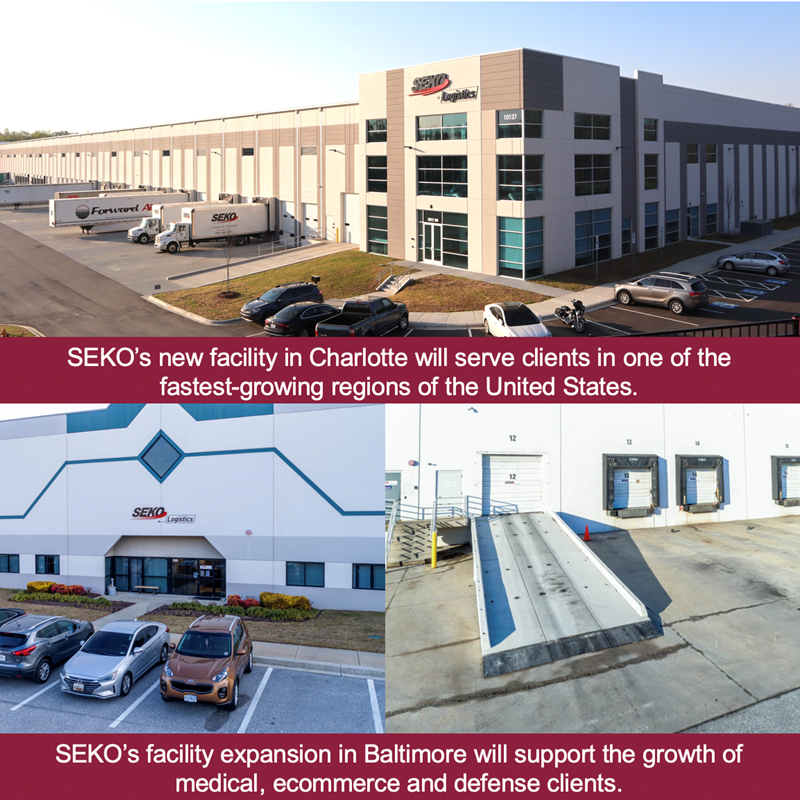 SEKO Logistics has opened major new regional distribution hubs on the U.S. east coast to manage growth in Baltimore and Charlotte as part of its investment strategy to expand the company's facilities footprint in the United States.
The new Baltimore operation offers over 160,000 sq. ft. of warehouse space to support clients in the medical, ecommerce and defense sectors. The move significantly enhances SEKO's Defense and Commercial logistics solutions in Baltimore, which include specialist inspection and acceptance, packaging and labeling, reverse logistics, and last mile services. The facility is also ISO 13485 certified for handling and managing logistics for Medical Devices.
SEKO has also invested in the ten-fold expansion of its facility in Charlotte, North Carolina, led by Managing Director and SEKO Strategic Partner,
Jim Duffy.
To satisfy demand from finance, furniture, apparel, automotive and
industrial clients, SEKO's new 110,000 sq. ft. warehouse operation is fully
C-TPAT compliant. With 24 dock doors, the facility combines the
technology, equipment and security systems needed to scale any client's project requirements.
SEKO's growth in Baltimore and Charlotte will also increase their focus on White Glove and Cross Dock for Value-Added Freight Forwarding services in both locations. 
"Our need for warehouse space is growing rapidly in the United States and our new facilities in Baltimore and Charlotte are the first of many we will be opening over the next 12 months to stay one step ahead of our clients' growth. This latest expansion follows the opening of larger SEKO  Ecommerce and Omni-Channel hubs in other prime locations such as Los Angeles, Chicago, New Jersey and Atlanta," said Brian Bourke, SEKO's Chief Growth Officer. "These investments demonstrate how fast we are growing outside of our main gateways in the U.S. and emphasize the importance of Baltimore and Charlotte as strategic distribution hubs."
"Baltimore is a market where we are seeing particularly strong growth from ecommerce clients who recognize the Port of Baltimore as a low cost alternative that enables them to achieve next day distribution to their customers in New York. Charlotte is also a key investment area for SEKO because it is one of the fastest-growing regions in the United States, and we are seeing a significant increase in demand in this market. SEKO's ongoing growth positions us to make these investments and to support opportunities from clients who see us as a competitive differentiator in their supply chains," he added.
Robert Shearer, Managing Director of SEKO's Strategic Partner in Baltimore, commented: "Our infrastructure investments in the Baltimore/Washington operations are reflective of the strategic advantage of the Mid-Atlantic region for high quality, high-speed distribution capacities within one of the USA's most dense population centers. Our Mid-Atlantic location means that we can deliver to over 120,000,000 people in 18 States with a one or two-day ground service. There continues to be tremendous demand for Class-A warehouse capacity. For many clients, working with SEKO in a shared-logistics operation is the most efficient and capital-friendly way to get their products to market."