SEKO Logistics Launches 'SEKO Cares' and Partners with Project C.U.R.E to Support Frontline Medical Heroes in the Battle Against COVID-19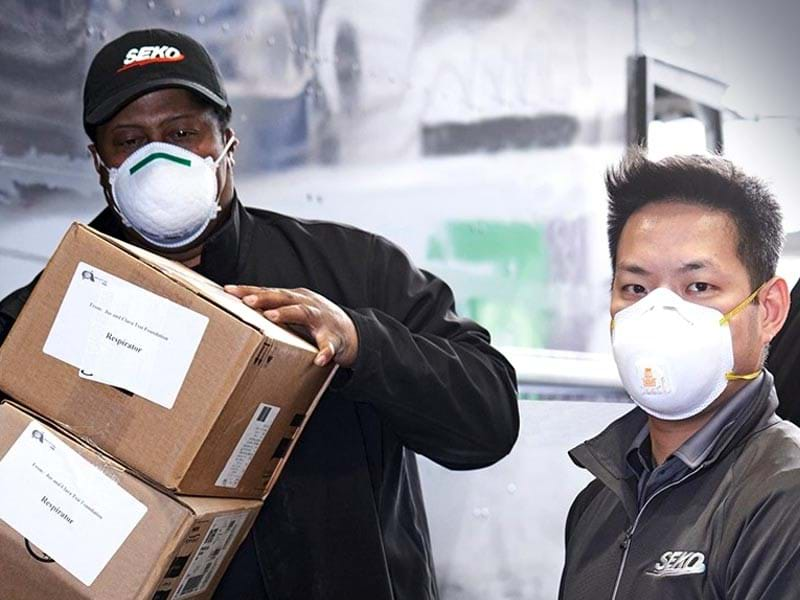 SEKO Logistics has launched a new SEKO CARES initiative in partnership with Project C.U.R.E., the non-profit humanitarian relief organization, to buy, donate and inspire support for frontline responders treating patients affected by COVID-19. SEKO's commitment will also help to protect the safety and well-being of their own staff, as they continue to provide essential supply chain services for the company's international clients.   
SEKO is donating more than $200,000 to the cause and, to increase momentum for this inspiring movement, also created a donations page to encourage their partners and clients to join in the fight against COVID-19. SEKO has signed a sales order to purchase over 240,000 masks, including 40,000 N95 respirator masks and 200,000 3-ply ear-loop masks – both surgical and medical. In addition, they will acquire 2,500 disposable medical bio-protective suits and are working to secure reusable isolation gowns as part of the initiative, which will also include  management of the entire supply chain from pick-up at point of purchase, through to final mile delivery. These donations will initially focus on the hardest hit areas starting with New York, Chicago, Louisiana and Michigan, where the spread of coronavirus continues to peak for area hospitals. SEKO then plans to widen  distribution  to other locations such as Arizona, New Jersey, Colorado and Florida as needs arise.
As one of the world's leading 3PL's serving the MedTec industry, SEKO is already working at the heart of the medical response effort in the battle against COVID-19; enabling manufacturers of respirators, ventilators, gloves, masks, gowns and other personal protective equipment (PPE) to expedite urgently-needed shipments to the doctors, nurses and patients in need. SEKO CARES will see support from their global network and James T. Gagne, SEKO Logistics' President & CEO, hopes the SEKO CARES movement will encourage others to do their part to support "those essential individuals who are making big sacrifices, hour by hour, day in and day out."
 "As the world grapples with a global crisis, our responsibility is to focus on what is important right now. We are proud to be partnering with, and supporting, the outstanding work of Project C.U.R.E. One of the key messages we hope to communicate as part of our SEKO CARES initiative is to inspire other multinational corporations to donate, as we have done to help equip our frontline teams even further. We can ­­support ­­these companies, not only by introducing them to producers of PPE products, but by also handling the end-to-end supply chain - from pick up to final mile delivery into medical centers or DCs. We've always been big believers in the concept of 'paying it forward', and now, more than ever, this type of collective effort is  absolutely vital. If even a handful of other companies follow our lead and leverage the platform that we've built, we will be able to make a significant and very positive impact on the relief effort," he added.
This essential PPE will be shipped either to medical centers or to state-sponsored distribution facilities, depending on what is allowed in each location. SEKO will be supported in this endeavor by Inspire Marketing Services and Project C.U.R.E., which will help to distribute the equipment to the hospitals, clinics, and local health departments most in need.
Until now, Inspire has been responsible for developing and managing the company's own branded products but, as part of the SEKO CARES team, they are now exclusively focusing on the sourcing, management and distribution of vital PPE donations throughout the United States.
Since 1987, Project C.U.R.E  has been identifying, soliciting, collecting, sorting and distributing medical supplies and services according to the imperative needs of the world and has delivered over $768m of donations to meet demand in 134 countries. 
"We are proud to join with SEKO CARES at this critical time in the health of our country. SEKO is a worldwide leader in global logistics, and with the creation of SEKO CARES, they have committed their expertise and resources to leading the fight against COVID-19. Project C.U.R.E. is also a recognized leader in the public health arena, and I am confident that the combination of our joint energies and resources will help save lives at a time when the world needs our best work," said Douglas Jackson, PhD, JD, President & CEO of PROJECT C.U.R.E.
SEKO recognizes the added responsibility to their employees in the current, extremely challenging operating climate. "It's important that we support our own staff as well, as they carry out this vital work – and as they continue to enable our clients to keep their own businesses running. We are also purchasing masks to make sure our amazing SEKO team can continue to work as safely as possible, whether that's in one of our warehouse facilities, at a logistics center or during final mile delivery. We're also recruiting other companies and clients that are interested in leveraging our sourcing and distribution platform for PPE if they are looking for a quick and reliable way to help out," added Terry Unrein, Chief Commercial Officer, SEKO Logistics.
SEKO has already begun expanding the campaign to support other countries in need, starting with a charter to New Zealand from China with supplies of PPE from the SEKO Omni-Channel Logistics team.
SEKO will continue to post updates as the initiative develops.
WANT TO KNOW MORE?
Everything we do is designed to make our clients' lives easier - helping them to develop and maintain excellent relationships with their own customers. Let us know what business challenges you are facing, and we'll see what we can do to help.