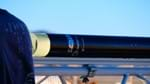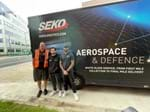 The Karman Space Programme (KSP) was founded in 2021 by four engineering students at Imperial College London with the objective of making life on Earth better through space. To reach space sustainably, the team is developing four reusable rockets known as the NOVA series: the Nebula, Orion, Vega, and Aurora rockets. Aurora is the end goal for KSP: it will be the largest and most powerful rocket in the series and aims to be the first to reach space in a sustainable manner.
On September 24, 2023, KSP launched Orion from the Friends of Amateur Rocketry launch site in the Mojave Desert (outside Edwards Air Force Base) in a two-stage rocket launch to test systems for reuse and recovery of the rocket. This test was a crucial step toward low-cost, sustainable access to space.
The Challenge
Due to rocket launching rules being less stringent in the U.S. than in the U.K., the launch was to take place in the Mojave Desert in California. KSP Mission Control would remain in the U.K., however; the rocket needed to be transported to the launch site in California. This was extremely challenging as the launch site was not only in the middle of the desert but was also near a military site. A skilled logistics team was needed to transport this delicate item across the globe.
The Solution
To ensure the careful handling of this high-value delivery, KSP turned to SEKO Logistics' White Glove service for their transportation needs. SEKO collected the shipment from Imperial College London and delivered it to its warehouse in Farnborough for professional packing and to ensure the rocket structure would arrive at its destination safe and intact. Then, SEKO's preferred trusted carrier booked the shipment and exported it to the U.S. The shipment arrived on time and SEKO U.S. Customs Brokerage cleared the shipment and securely delivered it to the launch site.
Benefits of the SEKO Solution
●Provides full visibility of all deliveries
● Ensures the careful handling of highly sensitive equipment
● Provides a seamless end-to-end solution
The Result
As a result of SEKO's White Glove Service and well-equipped global network, Orion arrived at the launch site in California intact and on time. Shakil Perera, Project Lead for KSP said, "The Orion mission simply wouldn't have launched without
the incredible support from SEKO. Getting a rocket around the world in such a short time frame should have been an impossible task, but SEKO acted in the most professional and efficient manner ensuring all logistics ran smoothly." While Orion launched off the pad successfully, an unforeseen issue meant the second stage did not ignite as expected. The KSP team is currently waiting to receive the Orion flight data to determine the exact point of failure. There will be many exciting and important learnings taken from the launch of Orion that will be applied to their next launch of the Vega rocket, which will use a liquid engine.
"SEKO stepped up to the mighty challenge of getting our rocket out to Los Angeles in what was a very demanding timeframe. Without SEKO, Orion would never have launched - SEKO literally made the impossible possible."

Matthew Acevski

Operations Lead for the Karman Space Programme