A state-of-the-art Returns Portal is an essential part of a Returns solution, however, it's incomplete without a Returns Processing System (RPS).
SEKO's OmniRPS was developed to complete the missing piece of the puzzle, completing the full end to end Returns journey, giving large fashion retailers complete visibility of their returns at all times whilst facilitating return action automation.
Complete automation from the returns portal all the way to refund receival by the customer. SEKO's OmniRPS has it covered.
Adding SEKO's Returns app not only allows your customer's order data to flow into the returns portal with images and associated SKU, size and reference numbers, etc., the returns app also facilitates the flow of information from SEKO's OmniRPS system back into Shopify. A fully automated returns system is now achievable with absolutely no IT integration.

SEKO's OmniRPS can pass a refund or credit note back to Shopify (or your nominated platform) allowing complete automation. With Shopify Plus, exchanges are also an option.
So, you wish to give your Returns Experience some WOW factor? You can now action your refund at 'first carrier scan'. Your customer drops the item in the post, the carrier collects it and scans and there it is, the money /credit note / exchange has been actioned. It makes the customer so excited that they jump online immediately and spend more! (and that's the intention).
This is an optional feature of course. SEKO's OmniRPS also has the ability to action the refund once the items have landed in the SEKO warehouse after a brief check has been performed, OR it can be switched to manual.
Different rules for different countries? Separate rules for sale items? Another rule for Faulty items? SEKO's OmniRPS have this covered. By setting up the optional rules section, the system will automatically issue the refund action of choice depending on the 'Reason', 'Country', Product Tag', 'Value', 'Discount' and more. No rules required? No drama: if the rules feature is not required, the system can be set to 'Customer Chooses Refund Action' where the customer is presented with the option in the Returns Portal.
One returns solution fits all; Consistency is essential and SEKO's OmniRPS allows both international and domestic returns to utilize the one portal, globally. This has branding advantages as well as administration advantages. Manage your global returns in one system.
SEKO understand the importance of branding so in designing the OmniRPS the ability for a retailer to maintain their branding was of utmost importance.
OmniRPS not only has a built in notification, allowing customers to be notified as the returned item reached various stages of the process, OmniRPS has also made the notifications customizable, allowing retailer images and logos to be added.
Retailers therefore maintain their branding consistency, giving the customer the perception of being nurtured from start to finish.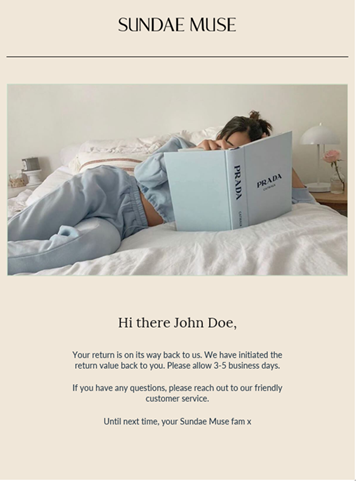 SEKO's OmniRPS has functionality to enable various user levels. This enables retail staff to complete their tasks with ease without being concerned about accidentally adjusting settings, pricing, etc.
SEKO's OmniRPS is not just a platform to facilitate returns automation, the system also comprises a reporting feature enabling the running of reports over selected time frames and selected international or domestic hubs. Reports with all milestone information, creation data, product information, consignment numbers and more. The report can be exported to Excel with ease.
The SEKO OmniRPS system not only allows for the searching of items that have physically been scanned into the system, RPS enables the search of items that are not yet received/ processed. Now you have a visual over your returns in all SEKO warehouses around the world, as well as the returns that are in transit to those locations. This takes returns visibility to a new level. From returns creation to the warehouse and beyond. SEKO has you covered.
From start to finish, SEKO has you kept informed. Once returns are scanned into your domestic or international hub, they are set for export, either to your domestic location or to your international warehouse or origin. Upon export you will receive a notification containing a link to every returned item within the shipment.
Knowing the correct refund has been actioned at various stages of the process is essential for peace of mind. So SEKO have built in a Shopify audit feature to allow the user to check all refund actions pushed to Shopify. From return label creation to warehouse processing, refund and export, you have full visibility.
WANT TO KNOW MORE?
Everything we do is designed to make our clients' lives easier - helping them to develop and maintain excellent relationships with their own customers. Let us know what business challenges you are facing, and we'll see what we can do to help.