Special Updates
UPDATED: JUNE 7, 2020
Special Update on the United States
A combination of large, peaceful demonstrations as well as widespread riots and looting against businesses in cities and suburbs have impacted areas across the entire United States since late last week. Conditions do appear to be improving mostly everywhere. More information below: 
Chicago
SEKO will now be delivering and picking up in most areas in the city of Chicago and surrounding suburbs with the exception of the downtown area. The city of Chicago closed the central business district and the Loop area to only employees whose businesses are located in the business and residents who live in the central business district. The Loop, River North and South Loop neighborhoods remain closed off by the National Guard and Police. Additional documentation is required for critical/urgent or medical relief shipments into these neighborhoods. Below is a map that shows the only two access points available.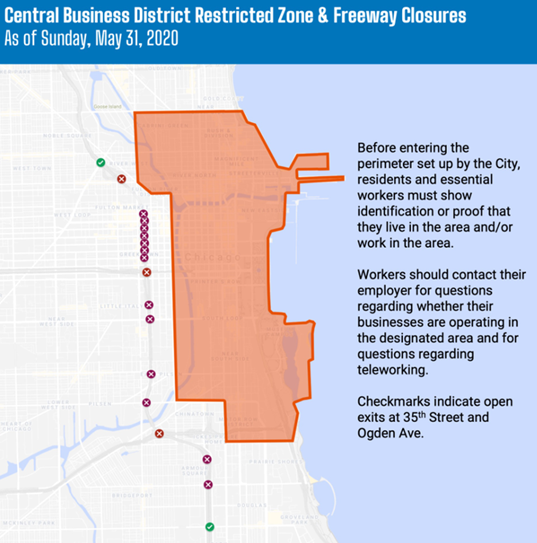 Source: Austen Hufford, U.S. manufacturing reporter for The Wall Street Journal.https://twitter.com/austenhufford
Philadelphia
All of Center City, North Philadelphia, West Philadelphia areas that were closed due to police and fire activity have now opened up today.
Los Angeles and Inland Empire (Chino)
Pickups and deliveries across the entire Los Angeles metropolitan area may experience delays, including from our 3PL facility in Chino and from our LAX facility in Carson. Certain areas such as Santa Monica have implemented a more restricted curfew of 4pm local time. Checkpoints by the national guard are in place around the metro area.
New York City
Looting continued in Manhattan last night in areas like Midtown, although SEKO continues to operate across the New York metro area. Pickups and/or deliveries may be impacted for any time definite, overnight service due to the curfew.
Washington, D.C. and Baltimore
SEKO is providing both commercial and residential pick-up and delivery service in the Baltimore and DC Metropolitan areas. If drivers come upon an inaccessible area or we believe the area may be accessibility issue, arrangements will be made on a case by case basis. There are no street or area closures communicated at this time, albeit a curfew in the District of Columbia commencing at 23:00 on 6/3/2020 and ending at 06:00 on 6/4/2020. Seko will not be able to handle any afterhours shipments inside the DC area tonight.
We expect city centers in DC and Baltimore to be difficult to navigate for the rest of this week, but believe we can look at transactional needs on a case by case basis.
After two nights with a curfew that began at 7 p.m., Mayor Muriel E. Bowser (D) announced Wednesday that a curfew will go into effect at 11 p.m. and extend through 6 a.m. Thursday.
Other Metro Areas
Curfews around the country are beginning to be lifted or shortened, but below is a list of cities that may still have some curfews in place that would limit some overnight deliveries.
Atlanta

Charleston

Chicago

Cincinnati

Cleveland

Columbus

Dallas

Denver

Detroit

Jacksonville

Kansas City

Los Angeles

Louisville

Miami

Milwaukee

Minneapolis

Nashville

Orlando

New York City

Philadelphia

Phoenix

Pittsburgh

Portland

Raleigh

Richmond

Rochester

Salt Lake City

San Francisco

Seattle

Washington, D.C.
WANT TO KNOW MORE?
Everything we do is designed to make our clients' lives easier - helping them to develop and maintain excellent relationships with their own customers. Let us know what business challenges you are facing, and we'll see what we can do to help.