Shipping Tips for Ecommerce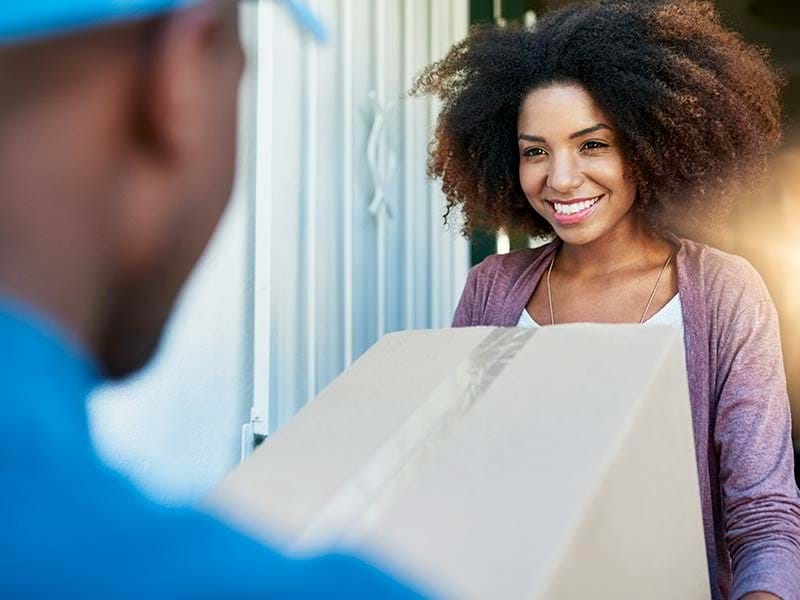 - Jason Lowe
It has been a complex period over the past year for businesses of all shapes and sizes when it comes to shipping. Throughout the COVID-19 pandemic, there's been an increased strain on capacity and soaring freight rates across all modes.
In these turbulent times, it's important that merchants have access to the best possible information and advice so they're able to carry out business as close to 'usual' as they can. This is why we've put together the brief guide below with some 'Shipping Tips for Ecommerce', which should help you stay ahead of the game in your sector and help your company thrive.
Increasing volume? Inform your Shipping Provider well in advance
While you may think that any shipping provider would be thrilled to hear a partner wants to increase the volume of a shipment, the current capacity crunch means it isn't necessarily a straightforward process.
Most international ecommerce shipping providers book space on the air or sea freight partner they use in advance, based on estimated volumes. Pre-COVID, extra space was easy to find but with capacity across both air and sea so scarce, there is now no room for error.
If your ecommerce shipping provider underestimates volume, or you don't let them know about an increase in volume well in advance of shipping, then they won't reserve enough space and not all your freight will be shipped. This means you may have parcels which are delayed, leading to a knock-on effect for you and your customers which could take days or even weeks to resolve. This means that accurate volume information is vital.
You should work closely with your ecommerce shipping provider as a partner, providing them with the information they require – such as forecast volumes – so they can deliver you with the best possible service. This will ensure your business stays on track and you keep your customers happy!
Keeping on track – the value of tracking Ecommerce delivery
Many ecommerce retailers often take tracking for granted and underestimate the importance of high-quality, detailed tracking.
Good delivery tracking means that both you and your customers will be provided with details of each delivery milestone, continuously throughout the end-to-end journey of the delivery process. This provides piece of mind for both parties in a time when significant delays are becoming more and more common across the supply chain.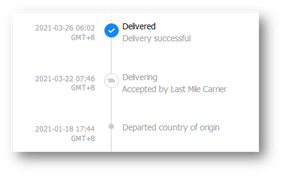 As you can see from the image above, a poor tracking function might not provide the customer with a delivery update for two months. Understandably, the customer could assume the item has been lost and would be inclined to reach out to Customer Services – this means that valuable customer services resource would be used in chasing an item, which would have been prevented by effective tracking.
When choosing your international or domestic ecommerce shipping provider, pay close attention to the tracking features on offer. Good tracking will ease the strain on customer service and help to increase sales and retain customer loyalty. Many carriers and TMS providers, as well as SEKO Logistics, offer great tracking features, so keep an eye out and compare the best features to suit your business.
Consider Incoterms before Shipping Internationally
You will have probably seen or heard the acronyms DDU, DDP and DAP. These refer to the International Commercial Terms of the shipments, commonly referred to as "Incoterms". These also cover other specifics such as which party (buyer or seller) is responsible for paying the insurance, clearance charges and so on.
Each of these different incoterms defines who pays for the duty and taxes associated with a shipment if the shipment is over the tax-free threshold set by the receiving country. To clarify, we have outlined the details for each term below:
When this incoterm is used, it is understood by both parties that the sender (not the receiver/customer) will pay for the duties and taxes. When the item is delivered to the end customer, they will not be required to pay. This is a far superior customer experience, where the retailer usually factors the duties and taxes into the original purchase price.
DDU = Delivery Duty Unpaid aka DAP = Duties at Place
When this incoterm is used, the end customer will be required to pay the duties and taxes on the shipment. However, there are exceptions – for example, the UK items sent with values up to GBP135 will incur VAT and will be the sender's responsibility to make payment.
Before shipping internationally, work with your shipping provider to familiarize yourself with the incoterms available for each country. If an optimum customer experience is required, think seriously about DDP incoterms.
Make the most of Australian Ecommerce Events
We're fortunate here in Australia to have the coronavirus relatively under control compared to other countries, and as such, our events industry has resumed and offers some amazing opportunities. Every year, various events are held for the benefit of ecommerce retailers, suppliers, and associated businesses, which can be hugely valuable.
Many of these events provide participants with a great opportunity to learn from various experienced and professional speakers from the ecommerce industry. You can listen to what they have done well and also the mistakes they have made, as well as what technology and resources that these participants have employed. Events like these give attendees the ideal opportunity to connect with like-minded people who are usually more than happy to share their experiences and their contacts within the industry.
If you're unsure of what ecommerce events there are in Australia, there's a range of options. NORA Network hosts many events throughout the year, from Retail 100 to Supply Chain Leaders. There's also the Retail Fulfilment Awards, Power Retail hosts events such as the All-Star Bash, and Retail Global have their Retail Fest which consists of award nights, galas and conferences.
Try to frequent a few of the many events that the Australian ecommerce industry provides, as the benefits are endless!
For more advice on maximising your logistics for ecommerce, consult our Knowledge Hub or contact us directly.
WANT TO KNOW MORE?
Everything we do is designed to make our clients' lives easier - helping them to develop and maintain excellent relationships with their own customers. Let us know what business challenges you are facing, and we'll see what we can do to help.