SEKO Cares 2022 UpdateSEKO Cares 2022 Update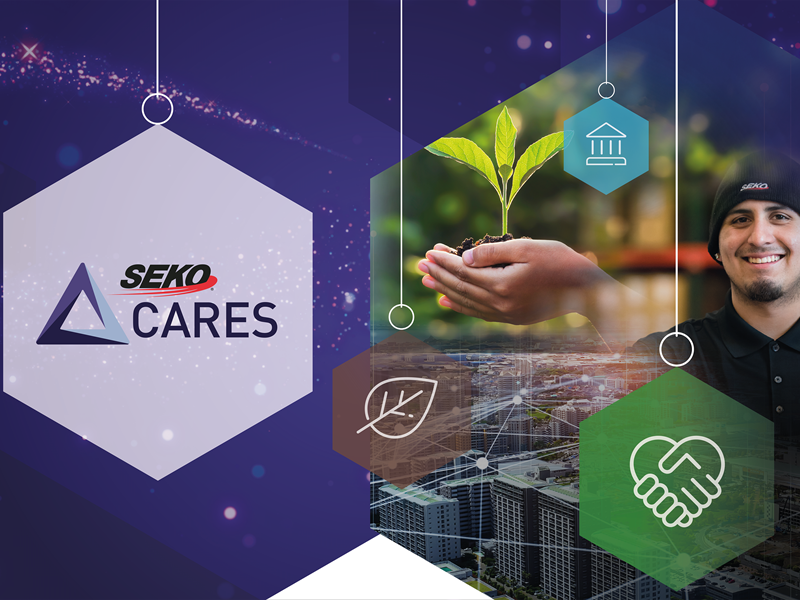 2022 was a milestone year at SEKO. Not only did we help hundreds of companies and organizations ship millions of goods worldwide, but we also came together as a company to formally commit to a series of environmental, social and governance (ESG) goals.
We know that our actions can and do have a critical impact on the daily lives of our team, our clients, the communities in which we serve, and the generations to come. By leveraging our assets, networking capabilities, data and partnerships, SEKO can redefine what's possible and make the world a better place.
Our driving vision is one where SEKO operates with a goal of climate neutrality and zero waste through a circular economy.
As an organization, we are also committed to helping our clients 'go green' – with many already proving to be leaders in the field of environmental sustainability and eco-friendly supply chain management. We can, and will, learn from them and work closely together to become the best possible versions of ourselves. 
While we still have a long way to go, we're incredibly proud of our achievements thus far, and look forward to the good we can do, together. 
ESG Achievements in 2022
Environment:
Set and published our goals on SEKO's

sustainability page

of the website

Identified and secured our carbon calculator platform, EcoTransIT, to track carbon emissions for SEKO's freight movements

Identified a global steering group and held the first meeting in October to discuss the ongoing challenges and opportunities that lie within sustainability

Many SEKO offices have been voluntarily proactive around making their buildings green and bringing them to or near carbon neutral
The work being done to bring us very close to being able to calculate CO2 emissions for our freight movements captured in both OmniParcel and CargoWise.

Social:
Alongside Airlink, SEKO teamed up with Project C.U.R.E, the world's largest distributor of donated medical relief and several other organizations to:
Provide more than $300,000 in goods and services, as well as ship 27 pallets of medical supplies at no cost 

Ship 10,000 teddy bears and dozens of neonatal incubators to children affected by the Russia-Ukraine war

Donate $150,000 in transportation services for medical, food and other goods to Ukraine

Ship over 500 pallets of humanitarian aid by air and ground to Ukraine and neighboring countries

Raise an additional $200,000 to support Airlink's work providing relief efforts around Ukraine and other communities (nearly 4 million people!) in crisis
Governance:
The establishment of our ESG framework and roadmap

Completed our first EcoVadis (platform used by clients to vet SEKO as a viable partner) assessment


SEKO's ESG Goals in 2023 & Beyond
Looking ahead to 2023, here are a few initiatives SEKO will be focused on:
Complete an energy audit on all SEKO-owned/leased facilities to improve our emissions
Provide employees with the opportunity to receive ESG training to better understand the issues, challenges and opportunities in this space

Publish our first sustainability report
Beyond next year, we have committed to the following ambitious goals, with the purpose of challenging ourselves to be the global leader of ESG in the logistics industry:
By 2025:

100% of employees will go through training on sustainability goals, challenges and opportunities

SEKO will complete energy audits with all of our agents

80% of SEKO business will be contracted through third party carriers who have adopted sustainability goals

By 2030:

90% of material handling equipment at facilities will be electrically powered

All SEKO-owned facilities and SEKO-owned last mile/white glove trucking will be carbon neutral (with agents following by 2032)

By 2040:

All air and ocean freight will be carbon neutral 

100% of SEKO-owned & leased facilities will meet LEED certification (or equivalent) standards

By 2050:

All SEKO-owned or controlled facilities and activities will be carbon neutral 

All road linehaul and parcel final mile to be carbon neutral
This is only the beginning for our ESG journey. Because we are not just looking to do our part in this space, we are determined to be the leader in providing sustainable, conscientious solutions in the supply chain industry.
Learn how you can join us and become involved at https://www.sekologistics.com/au/about/seko-cares/.
WANT TO KNOW MORE?
Everything we do is designed to make our clients' lives easier - helping them to develop and maintain excellent relationships with their own customers. Let us know what business challenges you are facing, and we'll see what we can do to help.