eCommerce delivery - What do your customers want?

When it comes to the delivery of goods bought online, consumer expectations are becoming ever more demanding. Almost half of shoppers (46%) said that the choice of a convenient and personalized delivery service is a key factor in the online buying decision stage (Sorted Survey).
So, if retailers aren't offering flexible fulfillment to meet the needs of their consumers, shoppers may look elsewhere.
Choice Matters
But purely offering a wider selection of delivery options won't necessarily ensure customer satisfaction. If customers do decide to purchase, but the delivery service isn't convenient, it could still end up costing retailers. The same survey found 25% of all failed online deliveries were due to shoppers not being able to change their delivery options once an item had been shipped, showing the consequences of not offering convenience.
Keep consumer lifestyles in mind
Convenience and flexibility hold a different meaning for each individual. Some consumers look for the cheapest option possible with no preference for when their goods are delivered, while others need it faster and are willing to pay for a more efficient service.
So, how can retailers be sure that they're offering comprehensive fulfillment options that work for their customers?
Retailers need to select their delivery options with their customer's lifestyle in mind. To demonstrate, we follow the online purchase journey of a large air hockey table as it travels from online checkout to its final mile.
"I need it tomorrow"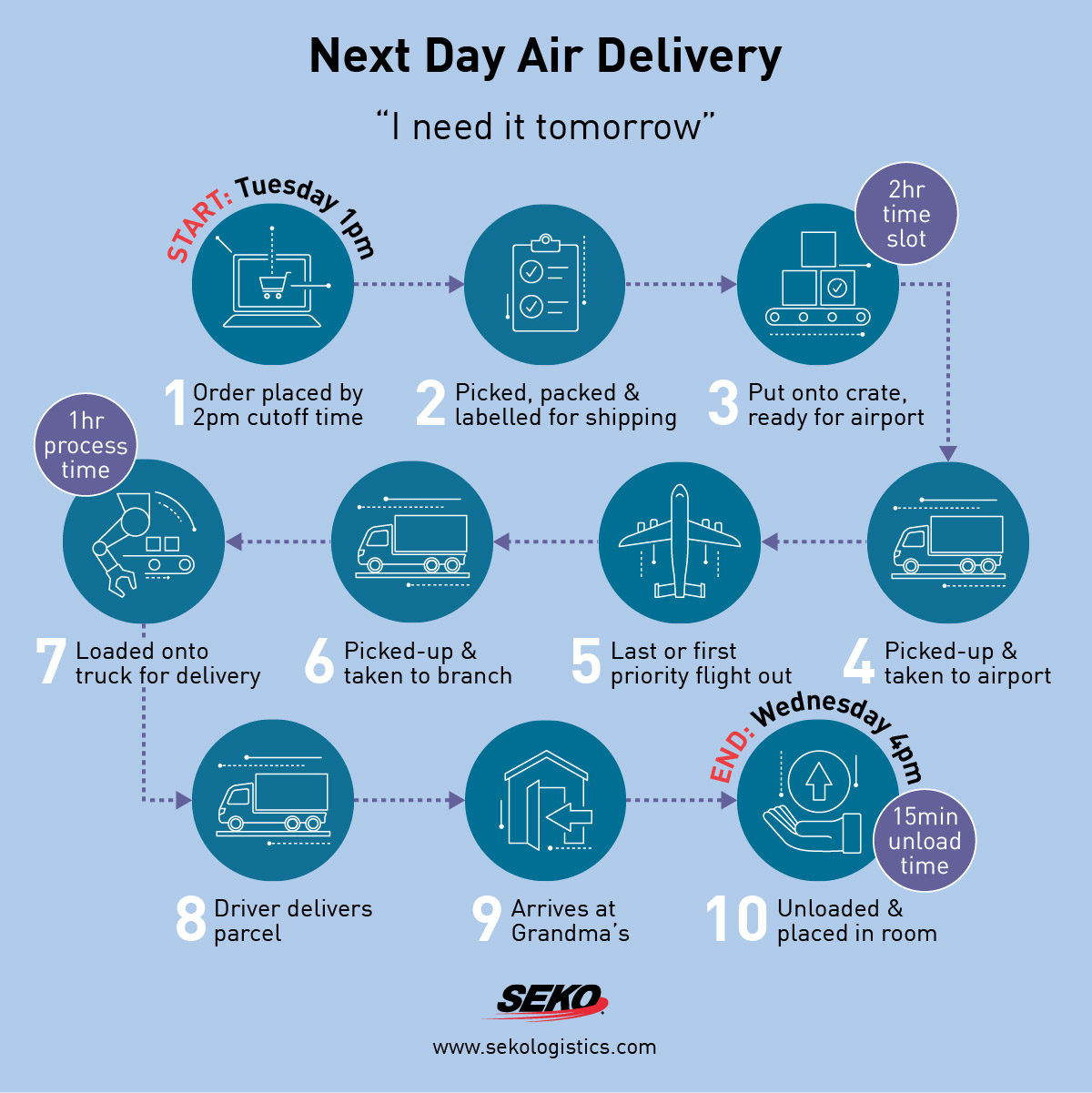 Who? 
A grandmother ordering a birthday present for her grandchild.
What does she expect?
She wants peace of mind that her air hockey table will be delivered in time, and needs help setting it up so chooses a more expensive Next Day Delivery and adds the choice to have it setup in the room of her choice.
The order fulfillment process:
She lives in an area that is serviceable by Next Day Delivery, and they have the air hockey table in stock so fulfillment is not a problem.
She orders the gift and within 2-hours the item is picked, packed and labelled for shipping. A courier picks up the package and takes it to the airport, where it's put on a priority flight towards the grandmother's location.
The package is picked up from the airport by a second courier and driven to a sorting branch. Within a 1-hour process time, the package is put on a final truck for delivery and, 30-minutes before delivery, the grandmother receives a call notifying her that her package is on its way.
The package arrives by the end of the next day and is assembled in her room of choice. The delivery team removes the packaging and the air hockey table is ready to play.
Key takeaway
Speed of delivery is vital. If an item can't be delivered in time, your customer may move onto a competitor who does offer Next Day Delivery.
To meet these needs, retailers need to work with their fulfillment provider to offer a later cut-off time for Next Day Delivery. This gives customers the flexibility they're looking for, especially for any last-minute orders.
"I'd like it this week"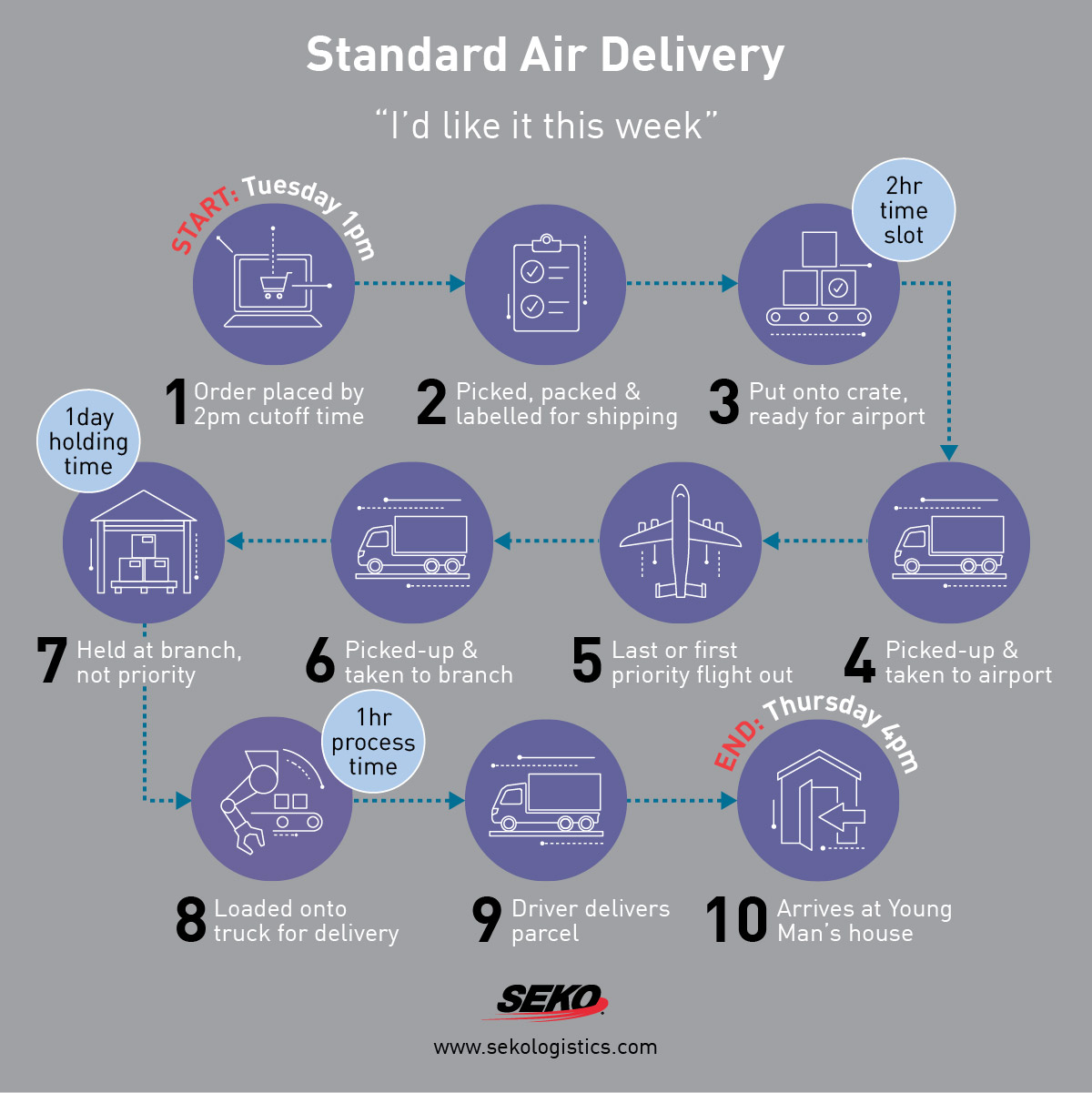 Who?
A young man is looking to complete his game room by ordering an air hockey table. He chooses Standard Air Delivery.
What does he expect?
A quick delivery to his door within 48-hours.
The order fulfillment process:
The man orders his air hockey table by 2pm on Tuesday. It's picked, packed, and labeled for shipping. Within two hours, his air hockey table is ready to be taken to the airport and, depending on availability, put on the first or last priority flight.
Once the priority flight lands, the package is picked up and driven to the nearest sorting branch where it can be held for up to a day. The man is contacted via an Interactive Voice Response System (IVR) to notify him of the package arrival and prompted to schedule a 4-hour delivery window – this makes sure he is available to meet the courier.
Upon delivery, the young man checks for damage with the courier. The courier can report any issues to customer service and take it away if the customer rejects the package.
Key takeaway
Partnering with a logistics company with a warehouse close to the airport can help make order fulfillment more efficient.
Being able to get the product on the last flight of the day allows retailers to provide Second Day Delivery, even if the destination is a substantial distance away from the distribution center.
"I want the cheapest option possible"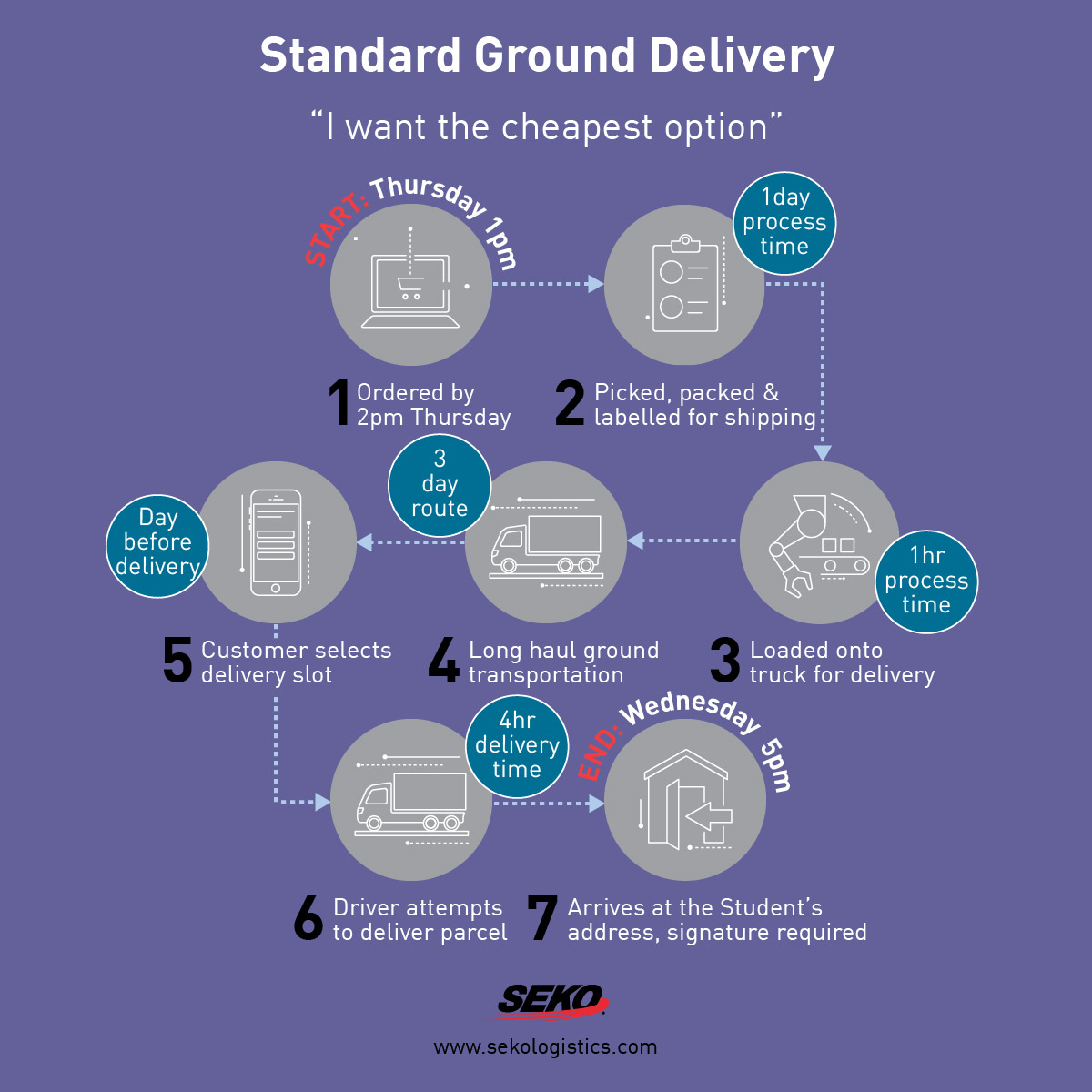 Who?
A group of college students want to buy an air hockey table for their party.
What do they expect?
The students choose Standard Ground Delivery and are willing to wait a week for because they don't want to add any extra expenses onto the cost of the air hockey table.
The order fulfillment process:
The students order their air hockey table and it's picked, packed and labeled for shipping before being put onto a truck for delivery. The long-haul ground route takes three days.
The day before the item is due to be delivered, the purchasing student is notified of the item's arrival via IVR, email or text and is prompted to select a delivery time slot. Scheduling a delivery window helps to provide a time for the customer's convenience and increase the likelihood of a successful delivery.
Five business days after the order is placed, the driver attempts to deliver the air hockey table. The package doesn't need a signature for delivery.
Key takeaway
Manage expectations throughout the delivery process to keep the customer informed.
Offer an Omni-Channel solution to help manage the delivery supply chain – communicate the expected delivery date and time to make it as convenient as possible for the customer.
What your customers want
Essentially, what customers want from a retail delivery service is flexibility and convenience. Due to the vast array of consumer demographics, it is essential to provide options that cater to a range of needs and clearly set the expectations for each order fulfillment option. Lack of communication could lead to consumer frustration and steer those would-be customers straight to your competitors.
WANT TO KNOW MORE?
Everything we do is designed to make our clients' lives easier - helping them to develop and maintain excellent relationships with their own customers. Let us know what business challenges you are facing, and we'll see what we can do to help.