Client Advisory Notice – China Coronavirus Update – February 17th

Customer Update – 24th February
As the Covid-19 virus is now taking hold in other parts of the world, including Korea, rumors that the Korean government plan to shut any of the Korean ports or airports have so far been confirmed as false by the SEKO Korea office.  However, SEKO Korea are currently experiencing port congestion and delays as containers heading to China are stuck in at Busan Port, causing additional delays as vessels are unable to enter the port, as well as disruption caused by void sailings. With Korea now on high level alert, countries are beginning to place restrictions on people traveling from Korea, which may have an effect on airline services in and out of the country in the coming weeks.
Chinese Central and local governments are relaxing the criteria for factories to resume operations and companies are being urged to resume production, with cities that rely heavily on manufacturing such as Dongguan and Zhongshan now not requiring workers to be quarantined as long as they are healthy, and factories that meet new health and safety rules don't need to wait for government approval to resume.  Around 80 million migrant workers have returned to their places of work, and 120 million more will return by the end of February, according to a transport ministry official, Liu Xiaoming, with another 100 million will return from March onwards.
SEKO's Chief Growth Officer, Brian Bourke spoke with the Business of Fashion last week about the steps that fashion retailers can take to keep their supply chains moving while the coronavirus runs its course.  Booking far in advance is advisable. Air service out of China is heavily limited by quarantine measures and travel restrictions. United Parcel Service has reduced flights to China, while commercial airlines, which carry freight along with passengers, have also cut back. Some air routes have seen rates soar up to 300 percent, Bourke said, and backlogs could quickly form as factories ramp up production.
"The first thing companies need to do is talk to transit companies, ask them what options they have," Bourke said. "There's not going to be enough ships and vessels in rotation yet, even when the freight is ready, so they need to understand when things will be ready so they can prebook."
Expedited ocean shipping from China to the US is another option, with some routes cutting the trip from Shanghai to Los Angeles to just 12 days.  Moving shipments by Sea-Air, routing to other ports in Asia or the Middle East and then sending by air the rest of the way is another alternative. 
Air Freight Service Disruptions
The Loadstar has reported that the impact from coronavirus could cost airlines $30bn this year, with Asian airlines expected to see an 8.2% contraction in demand during 2020, according to an IATA analysis on the impact of coronavirus.  That translates into a $27.8bn loss this year for Asia Pacific carriers, with Chinese airlines losing $12.8bn in the domestic market alone.
Cathay Pacific has warned its year-on-year financial performance in the first half of 2020 will be "significantly down", while adding it was likely to extend flight reductions into April amid the deadly coronavirus outbreak. The airline on Monday said it was widening its capacity reductions for February and March, shrinking by 40 per cent instead of 30 per cent, in a move analysts indicated the travel situation was worsening.  Hong Kong International Airport has said that it will offer HK$1.6 billion (US$205 million) worth of concessions to help the aviation industry ride out the coronavirus crisis, with airlines set to directly benefit from lower fees and rental charges for the first time. 
An informative breakdown of all airlines halting flights due to the outbreak can be found here.
Ocean Freight Service Disruption
Ocean carriers have withdrawn more than 1.67m teu of export capacity from China since the lunar new year holiday, according to an Alphaliner survey reported the Loadstar.  A survey of Asia-North Europe liner services revealed that 33 sailings were cancelled in the last four weeks, meaning that 46% of scheduled departures on the route were dropped, and for those vessels that did sail last week reported that up to 90% of capacity was empty.  There are added complications with shipping lines facing difficulties finding crew, as sailors and officers from mainland China follow quarantine regulations that apply at every port call, as well as certain destination ports reportedly requiring crew who have been to China recently to undergo a 14-day quarantine period before they can unload their cargo.
The situation is still extremely fluid, but please be assured that the SEKO Greater China team is doing all we can for our clients in these difficult times, including blocking additional premium space in advance, and using the Sea-Air option as an alternative to standard air and ocean freight.
The SEKO Greater China team is recommending Sea-Air service as an alternative solution to both air freight and ocean freight, as a blend of rapid ocean and premium air legs, with a choice of strategically located hubs, to provide the faster transit times at lower costs. 
The SEKO Greater China team is recommending Sea-Air service as an alternative solution to both air freight and ocean freight, as a blend of rapid ocean and premium air legs, with a choice of strategically located hubs, to provide the faster transit times at lower costs. 
Please contact your local SEKO representative or email us for more information.
SEKO China & Hong Kong Office Open Dates & Status:
As this is a rapidly changing situation, we have updated our site opening date and status list to a traffic light system to provide clarity and additional insight as more information unfolds.
Green = Open, Yellow = Pending, Red = Closed.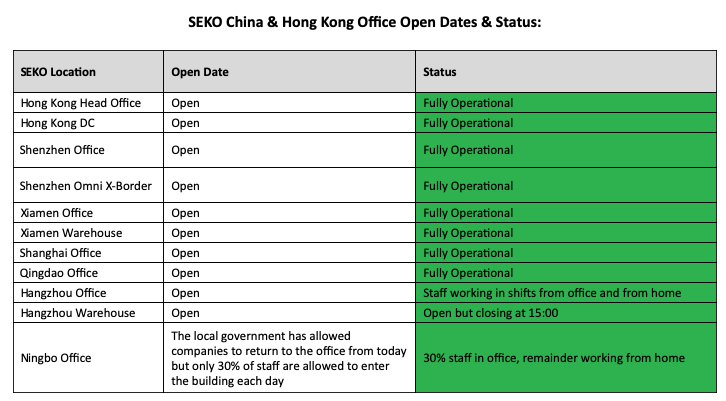 Please click here for more information on how to stay safe.
WANT TO KNOW MORE?
Everything we do is designed to make our clients' lives easier - helping them to develop and maintain excellent relationships with their own customers. Let us know what business challenges you are facing, and we'll see what we can do to help.