SEKO Hosting Free U.S. Export Compliance Seminar in Orlando, FL February 28, 2018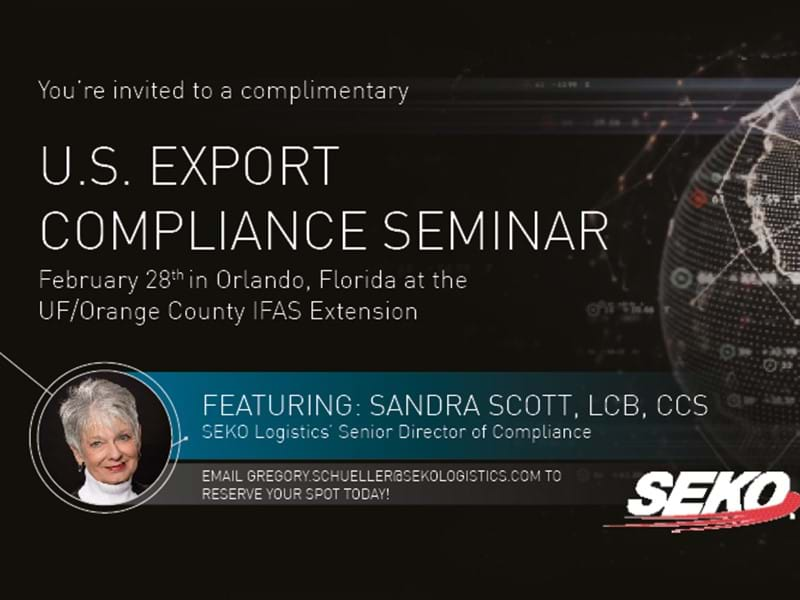 U.S. Export Compliance Seminar
February 28, 2018
University of Florida/Orange County IFAS Extension
6021 S. Conway Rd., Orlando, FL 32812
Join us for a COMPLIMENTARY U.S. Export Compliance Seminar hosted by SEKO Logistics' Senior Director of Compliance, Sandra Scott.
Featured topics:
Incoterms® 2010
Regulatory compliance programs
U.S. Department of Commerce Orlando – Screening Tools
Anti-boycott /Sanctions/Embargoes
Exposure to fines/penalties
Export control basics – What you really need to know
Automated systems – U.S. single window to government
Local CBP port practices and outbound program
Session time: 9:00 a.m. – 4:00 p.m. (45 minute lunch break)
E-mail gregory.schueller@sekologistics.com to reserve your spot today!
RSVP by 2/16/18. Reservations will be held on a first come first served basis. There is no registration fee for the seminar.
WANT TO KNOW MORE?
Everything we do is designed to make our clients' lives easier - helping them to develop and maintain excellent relationships with their own customers. Let us know what business challenges you are facing, and we'll see what we can do to help.