It's an unavoidable fact that the emissions from cargo ships are having a negative impact on the environment. While ocean freight is one of the most efficient forms of transporting goods, the main type of fuel currently used in ships produces Sulphur Oxides (SOₓ) as a by-product – a compound that contributes to poor air quality and causes damage to foliage and crops.
Therefore, the new regulations set out by the Shipping International Maritime Organization are a welcome change to tackle the negative effects of our ever-evolving industry.
These new regulations are the biggest change that the maritime industry has seen in decades, and it's no surprise that stakeholders – from carriers to shippers– have many questions and concerns.
In this article, we'll discuss the new IMO regulations to reduce sulphur oxides, and what it means for the suppliers who rely on ocean freight logistics to transport goods and materials.


What is the IMO 2020 regulation?
The International Maritime Organization (IMO) announced new regulations capping the levels of sulphur in bunker fuel for the maritime sector in international waters. Currently, a content of 3.5% is permitted but, as of January, 2020, only fuels with a sulphur content below 0.5% will be allowed.
These new guidelines hope to bring an annual reduction in SOₓ by approximately 8.5 million metric tons, thus reducing the overall negative impact shipping emissions have on our health and the environment.


What if carriers don't comply?
Monitoring ship compliance falls under the Government and local IMO member state authority.  
While the IMO hasn't set any fines or sanctions for non-compliance, they suggest that penalties should be "sufficient to discourage violation."
If the fuel in a vessel is found to exceed the sulphur cap, it may be deemed unseaworthy, which will relieve insurers of liability for any claims.


How are ships being prepared for IMO 2020?
To meet the new cap set on fuel sulphur levels, the maritime sector is expected to do one of three things:


Use low-sulphur fuel
Firstly, carriers can switch to low-sulphur fuels. While this may sound like the most straightforward option, the cost of 0.5% sulphur fuel is significantly higher than the non-compliant fuel currently being used. Plus, with increased demand, we can expect to see rising fuel costs.


Install scrubbers
Alternatively, carriers may look to install scrubbers – also known as Exhaust Gas Cleaning Systems - on their vessels that work to reduce the emissions produced by burning fuel; allowing the use of higher sulphur fuels.
However, investing in scrubbers can cost between $3 million and $10 million per vessel, and with no guarantee that some trading regions won't look to ban the use of scrubbers in the future, many questions are yet to be answered.
Additionally, with the scrubber installation comes the challenge of how shipping lines will dispose of the resulting high sulphur toxic sludge. (Most ports currently lack clear processes on waste disposal from scrubbers and it would be counterproductive for shipping lines to dump this into the oceans).
With the switch to low sulphur fuels, the anticipated demand for high sulphur fuels should likely fall and, with supplies already in reserve, the cost could also fall, making scrubbers an attractive overall solution. However, shipyard capacity for installation / retrofitting of vessels with these scrubbers is currently full until mid-2020.


Convert to non-petroleum fuel
The final option is to convert to a non-petroleum fuel like Liquified Natural Gas (LNG). This type of fuel emits almost no sulphur, but as with scrubbers, it's costly to build or retrofit vessels with the correct infrastructure to support LNG fuel.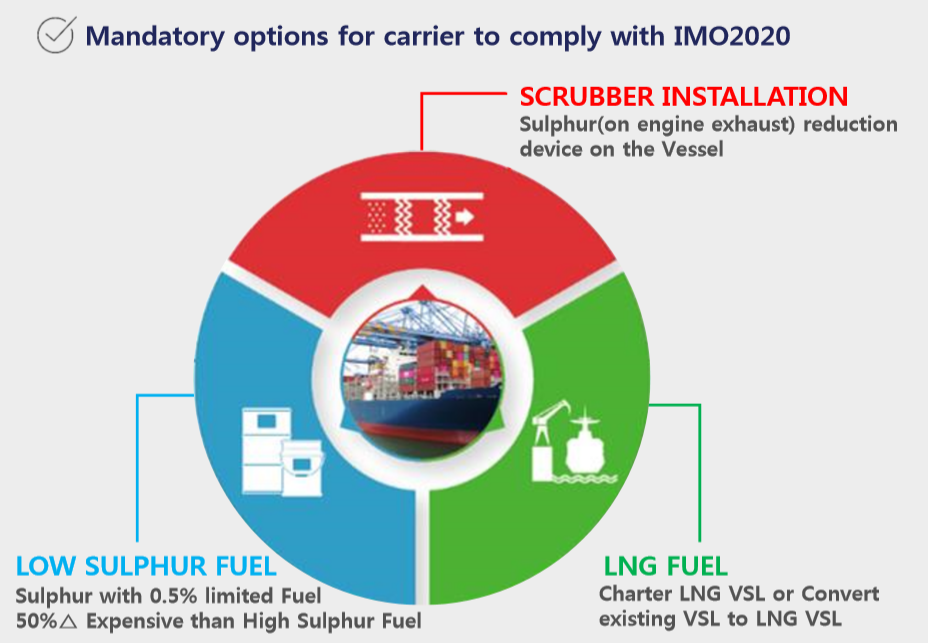 What does the IMO 2020 regulation mean for my business?
As a supplier, you may be concerned about the effect the IMO 2020 regulations will have on your business.
To help you better understand how these regulations could impact you, we answer some commonly asked questions:
 Will there be a delay to my shipments while carriers ensure compliancy?
So far, carriers have not advised of any delays with either new equipment or procuring compliant fuel.
The regulations and January, 2020 deadline were finalized and confirmed in 2016 to give carriers time to prepare for any necessary changes to their vessels.
Major oil companies have confirmed that they are producing low-sulphur fuels to meet the IMO's requirements, and supplies are expected to be available at major bunkering ports such as Singapore, Fujairah and Rotterdam. However, it's uncertain if smaller ports will have supplies immediately available.
In the event that a compliant fuel is unavailable, carriers will have the ability to present a completed fuel oil non-availability report (FNA) to the port.    
Therefore, your shipments should not have any delays, as carriers are already prepared to meet the new regulations.
Should I warn my customers of longer shipping times?
We don't anticipate that shipments will take any longer than usual unless carriers decide to 'slow steam' by operating at a lesser speed than the vessel's maximum capability. This practice decreases fuel consumption; thus reducing the fuel spend. However, slow steaming would mean longer transit times and a slower supply chain.
At this point, carriers have not announced plans to slow steam, so transit times should remain the same.
Will the fuel regulations make ocean freight more expensive?
Due to the fact that low-sulphur fuel is more expensive to produce than the current high-content fuel, increased fuel costs should be expected.
As a supplier, it's likely that you currently pay a surcharge for fuel known as a Bunker Adjustment Factor (BAF). With carriers switching to more expensive, low-sulphur fuels, the BAF surcharge will be calculated based on that a new index which is expected to be higher.
Currently it's expected that there will be either a LSF (Low sulphur fuel) surcharge that will be implemented on top of existing BAF for short term contracts. For longer term contracts, it is expected that the same would be calculated within the current BAF formula, thus resulting in a higher BAF amount.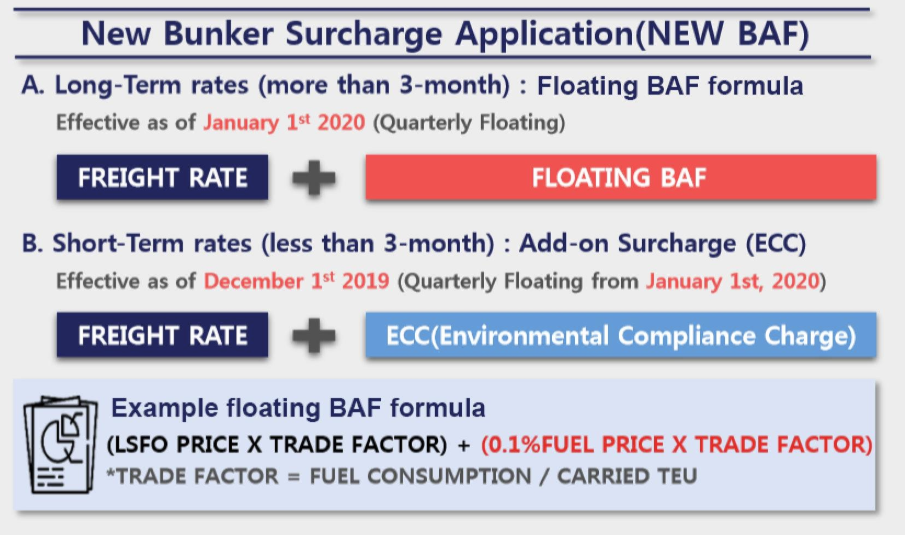 In addition, we expect demand for low-sulphur fuel to begin rising in December, 2019 as carriers build their reserve in advance of the deadline. An increased demand will likely lead to increased prices; therefore, as 2019 comes to an end, the BAF will likely fluctuate more than usual – possibly lasting a few years until supply and demand settles.
How will the increased cost affect my goods?
There may be additional pressures on the cost to transport goods per unit price. We expect low-value goods to be the most impacted by the rise in fuel price, compared to high-value goods, where the additional fee will have a smaller impact.
It's possible that we'll see a highly diversified fee structure with variations between carriers - especially between FCL and LCL shipments.
How can I minimize the challenges caused by the new IMO low-sulphur regulations?
It's important to work with a service provider who is market-savvy, especially when it comes to the increased cost of low-sulphur fuel.
With the expected fluctuations in fuel price, your provider should update you accordingly. Unfortunately, carriers will likely pass on the additional fuel costs, but a good provider, with strong market connections, will work to negotiate competitive prices to minimize the added cost.
Your service provider should be available to help you understand any changes to help your business isolate the impact of mandatory fees.
If you have questions about how the IMO regulations might affect your business or contact your SEKO Logistics representative or email us at hello@sekologistics.com.
WANT TO KNOW MORE?
Everything we do is designed to make our clients' lives easier - helping them to develop and maintain excellent relationships with their own customers. Let us know what business challenges you are facing, and we'll see what we can do to help.